Smiley Dogg Tattoo Parlour - Custom Logo Refresh

With this brand we needed to show professionalism, class, the talent within the studio and express that they are trustworthy. We also needed to consider merchandising and ability to expand the brand beyond just a business card or banner overhead.

With all this in mind, we settled on a two part logo, that comes in various sizes. Two part referencing our custom lettering and the pitbull, "Smiley". We have our main logo mark. The logo displays a level of class and professionalism while lending itself to reproduction on clothing by having the ability to keep it all together or alternatively market Smiley separate from the lettering. We also see the companies routes in the intricacy surrounding the main section, with waving lines calling back to tattoo shading and displaying the studios proud location in Cork.


Graphic Design, Logo Design, Typography
2018

Alternative Marks
Alternative marks have been created in conjunction with the main logo. These have multi uses in a world where we view so much on screens, we wanted a logo that can "collapse" but still retain the brand. These alternatives can also be used on promotional material where space is limited.
These are the original logos proposed to the client. The only major change was to create a different dog head.
Off The Beaten Track - Ireland's Roads Worth Knowing

For my final year project I created a proof of concept motorcycle orientated guide to all the roads in Ireland worth riding at least once in your life. The book contains roads that lead to some tourist spots however many roads are just worth driving because you have two wheels instead of four. It is not about the destination but the journey that gets you there.

The cover is printed on 300gsm Silk Matt Laminated and the pages on 115gsm Uncoated, the book was designed around being able to carry with you while on the bike. Taking into consideration the ability to turn the pages with gloves on. It is a compact easy to use guide with personal instructions from another riders point of view with Sat Nav instructions included. All the photos were taken over the course of 6 months and the video was shot in a week.
Graphic Design, Editorial, Motion, Typography
2018

Based on three different types of bikes with three different purposes and experiences they can provide. I felt it was the best way to introduce the book upon opening it.
Inside Cover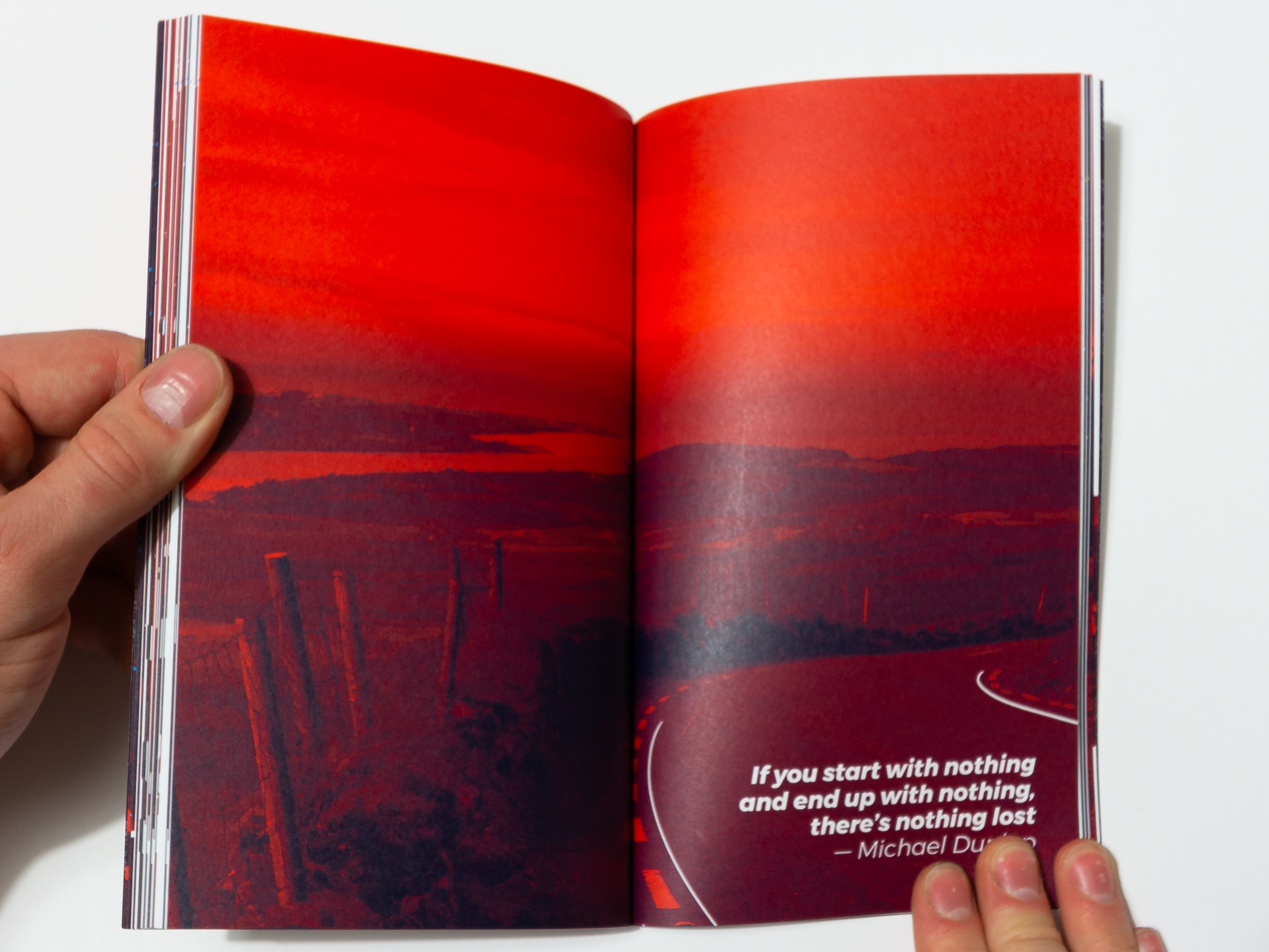 A specific pull out page that I dedicated to one of my favourite roads featuring my heart rate I recorded on the journey.